The Catalan Pitch and Putt team is made up of Alex Albiñana Jr, European runner-up.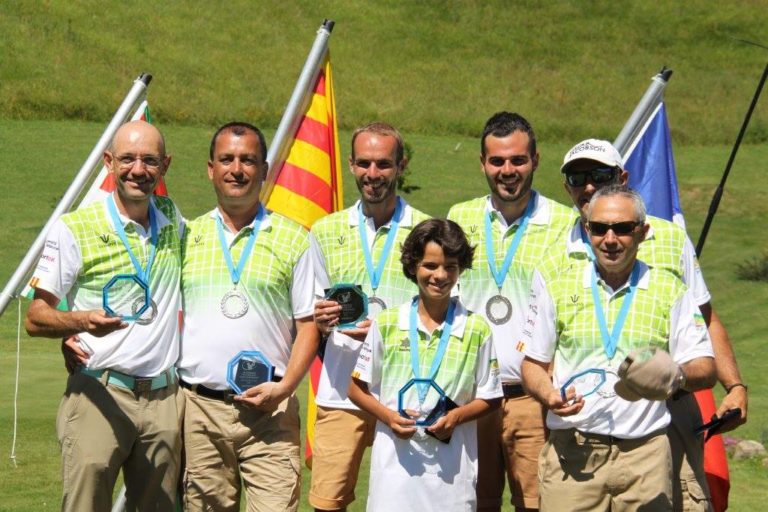 Ireland were unbeatable in Urduña (Basque Country) and won their sixth title 11 years after the last one.
Catalonia failed to win their third consecutive European Pitch and Putt Championship in a clear-cut 8.5-0.5 loss to Ireland in the decisive match. The Irish showed the best version of themselves in Urduña (Basque Country) and became the first team to close all the direct elimination rounds (MatchPlay) without losing any individual games. It has been 11 years since the green, white and orange team won the title (this weekend's is the 6th), after the Catalan national team had beaten them in 2010 and had been absent in 2014.
Strokeplay sets the trend
The European started with two individual laps (strokeplay) of all the players, the sum of the results of which was to distribute the nine participating teams in 3 different groups. Catalonia was second to 29 strokes from the Irish, who with an overall record of -44 began to ratify their status as favourites. For their position, the Catalan national team faced in the second phase in Switzerland and Galicia, against whom they managed to reach the final group stage with not a few difficulties. Although the Swiss lost 9-0, the Galicians were able to draw (4.5-4.5) against the two-time champions.
Final three unevenly matched
The final group was played by Ireland, Catalonia and Andorra, who surpassed Great Britain in the previous qualifying round despite having been 10 times in the strokeplay. The Catalan national team beat the Andorran team (5,5-3,5) thanks to the foursome as, in singles, there was a tie to 3. The last day was the duel between the Irish and Catalans, which was a final but in this European premiered the final triangular format. The team was made up of Emili Sanmartín, Eric Puig, Fernando Cano, José Iglesias, David Riera and Alex Albiñana Jr, who scored the only half point against Ireland, drawing their individual match.
25/06/2018