Championship. Josep María Serra and Dana-Helga Puyol Doubles Champions Catalonia male and female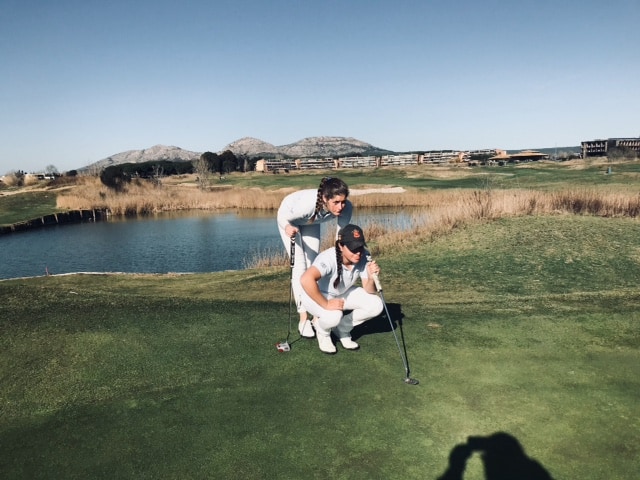 Championship. The official pairing competition of the FCG, which took place last weekend in January on the Links tour of Empordà Golf, was decided by a single blow in the men's category, and three in the women's category.
The Catalunya Doble Championship, held at the links course of Empordà Golf crowned the new champion couples, in a competition that had two very different days at the climatological level, although all competitors raffled with the greatest hope and desire to make a good result. In the men's category, final victory for the pair formed by our young Josep Maria Serra and Guillermo Acha (Golf Barcelona), after accumulating a total of 157 strokes, after the 84 of the first day -in difficult conditions with cold and wind-, and the 73 of a sunny Sunday whose good temperature had nothing to do with the previous day. At a single impact, ended the couple formed also by two young members of the Club, Eduard Rousaud and Joel Moscatel), with 158.
In the women's category, we are also to be congratulated. The title was for our player Dana-Helga Puyol and her partner, Berta Sánchez (La Roca), who, after 79 strokes of the first day, leaving behind all the other competing couples, dedicated Sunday to keep their wide lead, and his return of 80 strokes was enough to take the title, with 159. Three blows left the couple formed by another of our partners, Valeria Biarge and Marta Badía (Costa-Daurada). Congratulations!
Real Club de Golf El Prat is regarded as one of the best golf clubs in Spain, having hosted more than 250 top-level national and international championships, including the European Tour Spanish Open on 10 occasions.
The world-renowned course, which is just 35 minutes from the centre of Barcelona and one hour away from Costa Brava, is steeped in history with its roots dating back to 1912.
Real Club de Golf El Prat has played host to some of the biggest names in golf with top stars such as Spanish legends Severiano Ballesteros, José Maria Olazábal and Sergio Garcia, eight-time Major winner Tom Watson, and Tommy Fleetwood having featured there in various tournaments, while Masters champion Garcia and European Tour star Pablo Larrazábal are both members.
Situated on the picturesque 518-acre estate of BonVilar since 2002, El Prat is the only Catalan Club together with PGA Catalunya to boast 2 championship courses. Designed by the legendary Greg Norman, the top quality layouts play over an exciting mix of five highly acclaimed configurations – the Open, Blue, Yellow, Pink and Green – as well as being home to a modern and lively clubhouse and extensive practice facilities, as well as a 300m driving range and a host of specialist short-game areas.
The multi-award-winning El Prat was recently named as one of the 125 Platinum Clubs of the World – Five-star Private Club alongside other Spanish top Clubs such as Real Club Valderrama, Real Club de Golf de Sotogrande, Real Club de la Puerta del Hierro.
And the prestigious club has carefully chosen a selection of hotel partners to create a variety of stay-and-play packages to provide golfers with the chance to enjoy some of the most sought-after hotels in Barcelona.
28/02/2018