Mireia Prat wins the Santander Golf Tour Burgos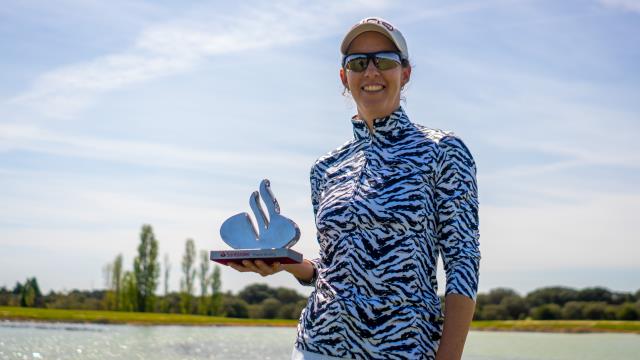 The golfer, member of Prat, won with two rounds of 66 strokes.
New victory of Mireia Prat, the second of the course, in the Santander Golf Tour. The Catalan golfer has won the Santander Golf Tour with two fantastic rounds of 66 strokes.
At the end of the first nine holes, the classification was equal, with 8 under par, thanks to three birdies by Iturrioz, and three birdies and a bogey by Mireia. The second round began with a birdie by Mireia on the 10th hole, while Iturrioz answered Prat's birdie with two birdies in a row on the 13th and 14th holes that put her one stroke ahead in the last three holes, but the 17th hole would put Mireia 2 strokes ahead again, thanks to a spectacular eagle and a bogey by Iturrioz.
Finally, Mireia Prat would make a new birdie on the last hole, finishing with -12, and getting her second consecutive victory in the Santander Golf Tour.
During the awards ceremony, our member was very happy for this new victory: "I like this course very much, I feel very comfortable. I already won in 2018, and in 2020 I lost in the play-off. This week I have missed very little. I've been very regular, and in general I've hit very good shots and the putts have gone in. I am very happy for this second consecutive victory".
Check all the club's golfing news here.
24/04/2023