golf women's interclubs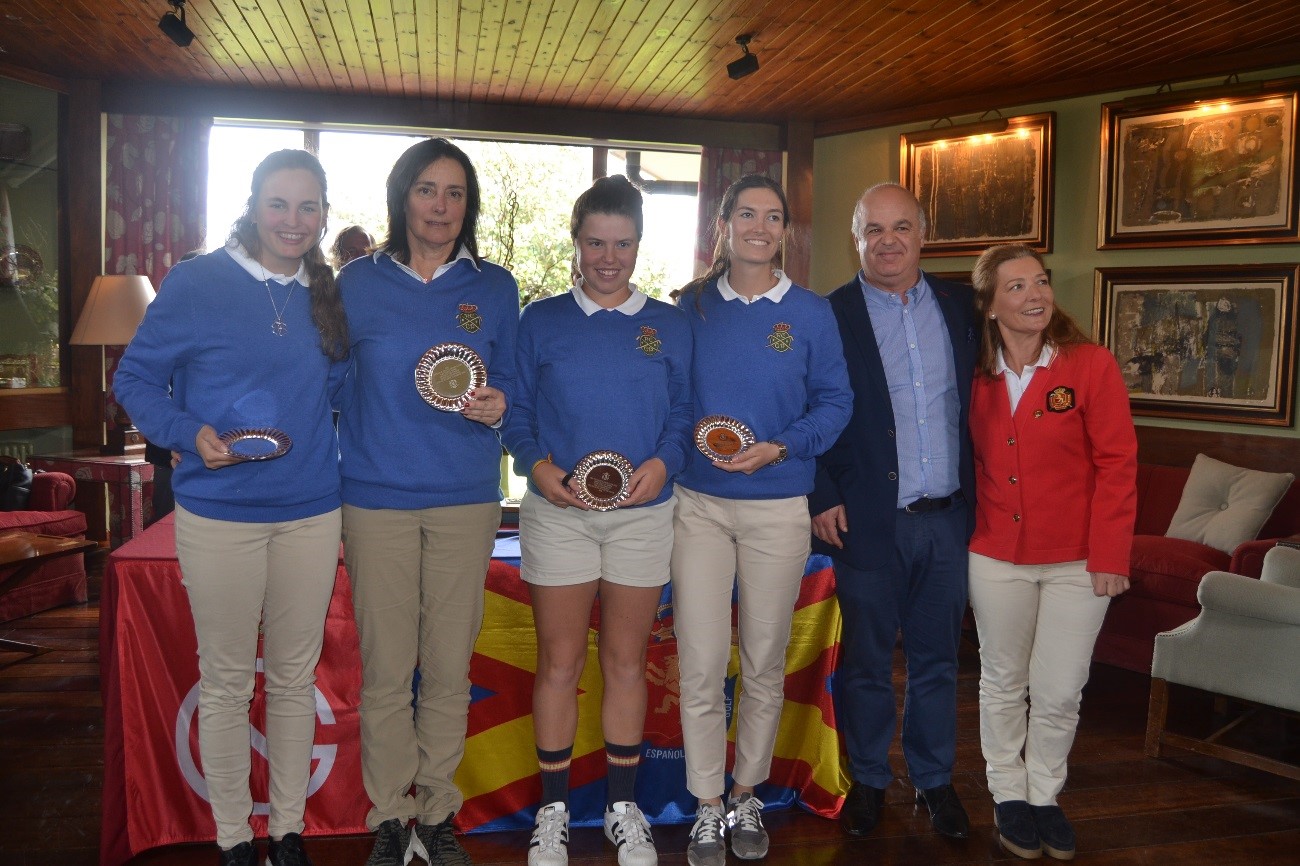 GOLF TEAM
The golf team, formed by Cristina Felip, Dana Helga Puyol, María Piñeiro and Soledad Desvalls and captained by the latter, finished third after beating Puerta de Hierro in the match for third and fourth place (2.5 – 0.5).
The winner of the tournament was the representative of RNCSS Basozabal, who won the title for the third time after defeating the host team on the course of the Real Sociedad de Golf de Neguri (Getxo, Vizcaya). The final was resolved by a 2-1 result of a comeback of the Donostiars in the singles.
Ours couldn't make it past the semi-finals against Basozabal, who ultimately won the tournament. The club from Gipuzkoa won the direct one with 2,25-0,5. In the foursome match there was a draw that left everything open for the singles. The Basque team had no choice there, Natalia Aseguinolaza overtook Dana Helga Puyol by 2/1, while María Villanueva beat María Piñero by 6/5.
It is worth remembering that this Spanish Interclub Women's Championship has been held since 1976, a competition where the RCGP won in 1992, 1994 and 2016.
Real Club de Golf El Prat is regarded as one of the best golf clubs in Spain, having hosted more than 250 top-level national and international championships, including the European Tour Spanish Open on 10 occasions.
The world-renowned course, which is just 35 minutes from the centre of Barcelona and one hour away from Costa Brava, is steeped in history with its roots dating back to 1912.
Real Club de Golf El Prat has played host to some of the biggest names in golf with top stars such as Spanish legends Severiano Ballesteros, José Maria Olazábal and Sergio Garcia, eight-time Major winner Tom Watson, and Tommy Fleetwood having featured there in various tournaments, while Masters champion Garcia and European Tour star Pablo Larrazábal are both members.
Situated on the picturesque 518-acre estate of BonVilar since 2002, El Prat is the only Catalan Club together with PGA Catalunya to boast 2 championship courses. Designed by the legendary Greg Norman, the top quality layouts play over an exciting mix of five highly acclaimed configurations – the Open, Blue, Yellow, Pink and Green – as well as being home to a modern and lively clubhouse and extensive practice facilities, as well as a 300m driving range and a host of specialist short-game areas.
The multi-award-winning El Prat was recently named as one of the 125 Platinum Clubs of the World – Five-star Private Club alongside other Spanish top Clubs such as Real Club Valderrama, Real Club de Golf de Sotogrande, Real Club de la Puerta del Hierro.
And the prestigious club has carefully chosen a selection of hotel partners to create a variety of stay-and-play packages to provide golfers with the chance to enjoy some of the most sought-after hotels in Barcelona.
13/04/2018