A Closer Look At Real Club de Golf El Prat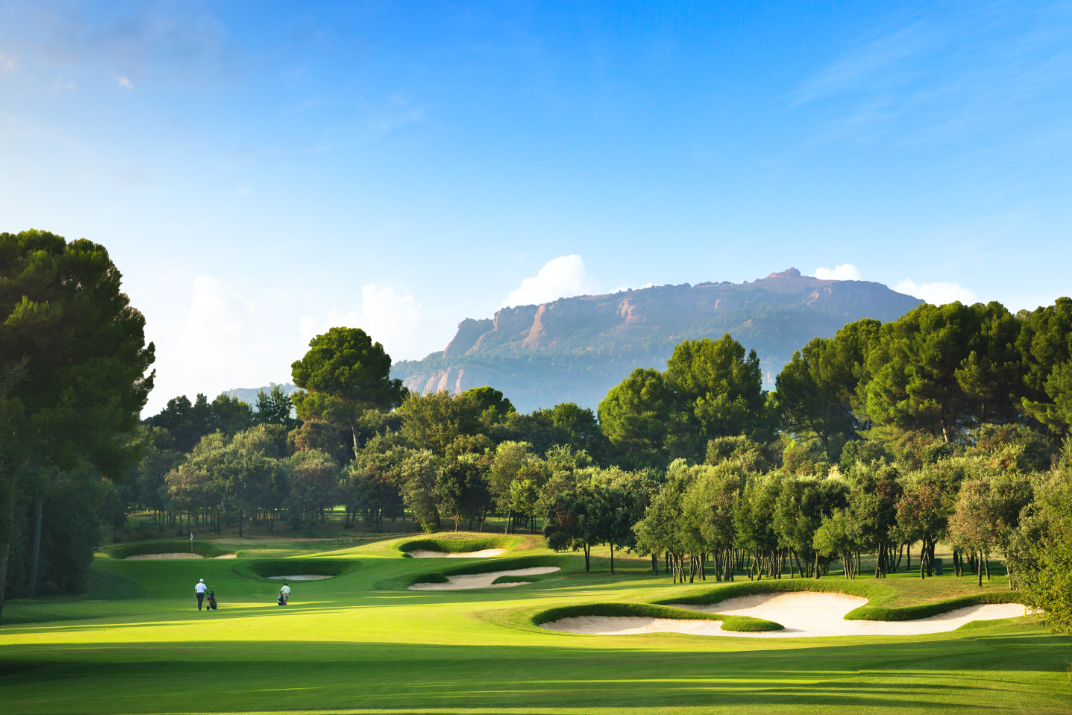 Barcelona might be known for its art, food, and soccer, but you may be surprised to know that there's also some great golf in the city. If you're a golfer— curious, newbie, or experienced — Real Club de Golf El Prat is a spot you should definitely spend a few hours at. 
Featuring 45 holes in total, this spectacular club has something for everyone. And yes, it's open to the public, but you'll do well to book your tee time in advance—it's popular! 
A Quick Introduction 
This beautiful club has the distinction of being the very first golf club in the city of Barcelona. It's practically a city monument! It was originally named the Barcelona Golf Club, then renamed the Golf Club de Pedralbes. In 1954, it received its current title, Real Club de Golf El Prat. 
Designed by veteran golfer and course creator Greg Norman, it routes beautifully through the natural landscape, fitting in like it's part of nature itself. 
The idyllic scenery isn't the only reason El Prat is well known, though—it has 10 Spanish Opens under its belt, over 250 national and international championships, is the home club of numerous professional golfers on the European circuits, and has the honor of being the most awarded golf club in Europe. 
The Courses 
The club features five sets of nine holes, which combine to form three 18-hole courses: Pink, Yellow, and Green. On the tees and fairways, you'll find Bentgrass with Bentgrass Stolonifera Pennwa, while the greens consist of Bentgrass with a variety of Bentgrass Stolonifera A4. This is the very same grass you'll find at Augusta, so you know it's the quality stuff! 
Pink Course 
From the black tees, the pink course runs to 6465 meters (7070 yards). Less experienced golfers can play from the red tees, which stretch to 4715 meters (5156 yards). There are also 5 different tees in between those two, so it truly caters to everyone! 
The Pink is known as the most fun of the courses at Real Club de Golf El Prat, as well as being designer Greg Norman's favorite. Despite being a fun and firm favorite, the course is challenging, featuring narrow and demanding holes on both the front and back nine. 
Yellow Course 
The Yellow course is a touch longer, at 6661 meters (72845 yards) from the black tee and 5112 meters (5590 yards) from the red. Don't be fooled by the casual first nine—the back nine gets progressively more difficult as you go! 
This course is also more open to the elements, so you'll have to have a tight handle on your game and play strategically if there's even a hint of wind or risk losing golf balls.
Green Course 
The Green course is the shortest of the three, at 6188 meters (6767 yards) from the tips and 4686 meters (5124 yards) from the shortest tees. It's a par 71, and this course is the opposite of the Yellow—it's long and tough up front, but eases up on the back nine. 
To get a good score on the short par-3s and varied par-4s, you'll need to play a strategic game and use every club in your bag. The closing stretch is particularly rough, so don't get complacent! 
Vallés Golf 
Excellent for the general public, families, and kids, the Vallés Golf course is an El Prat offering but has its own website. It's a short, 9-hole, par-35 pitch & putt course that's fun for golfers of all levels and can be played through quickly if you're short on time. 
Practice Facilities 
The club offers a driving range, putting green, and chipping green, as well as a kids' golf academy to instill the love of the game into our children! Both members and visitors may use the training area to warm up or work on their swing. 
The driving range stretches to over 300 meters, allowing you more than enough room to practice your long drives. It can accommodate 50 golfers at a time, but it fills up fast! 
If you're working on your short game, you can spend some time in the approach area, where you can improve your bunker recovery game and your approach shots. Two spacious putting greens warm up your putting arm, while three practice holes allow you to work on your full game. 
What's Expected Of You 
Real Club de Golf El Prat is nothing short of professional, and it's expected of you to dress the part when you arrive here to play a round of golf. Proper golf attire is required, which means no jeans, no sneakers, and no running shoes—only classy golfing apparel. Take note, though, that metal spikes are not allowed. 
Other Facilities 
The beautiful golf isn't the only enjoyable experience at Real Club de Golf El Prat. Some of their facilities are for members only, but others can be enjoyed by the public too. 
Note that the restaurant availability depends on when you're playing. During the week, there's just one open, and two on the weekend. In the summer months, the pool restaurant is also available. 
Plus, if you can't find a babysitter, leave your children at the Kids' Club while you play your round with peace of mind. And if you want a souvenir, our Pro Shop is fully stocked to suit your needs. 
Final Notes 
Whether you're just passing through the area and looking for a great round of golf or you're searching for a new home golf club, Real Club de Golf El Prat would be happy to have you! Steeped in history and beloved by professionals and casual golfers alike, you can't go wrong with a round at this wonderful club. 
Take an extra sleeve of golf balls just in case, but go wild and enjoy every moment on this iconic course. When you play these greens and fairways, you're walking in the footsteps of top golfers who came before you. It's a memorable experience, both for that reason and for the excellent golf. 
About the Author
Jordan Fuller is a golfer and coach and has played on many golf courses in his home country, the USA, as well as multiple international courses. When he's not on the fairways or coaching others, he writes informative content for his website Golf Influence. 
15/12/2022