Brilliant play of the FCG youth academy in La Manga Club with Clara Felip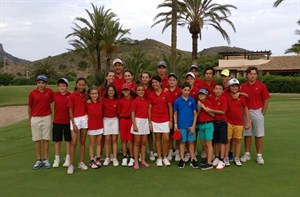 In an exciting Championship of Spain for children, Alevín and Benjamín, our young players shone with their own light, highlighting the fry title, won by Anna Cañado, in a vibrant final day at La Manga Club.
The Spanish Championship for Children, Youngsters and Benjamin 2018 ended in La Manga Club, leaving a magnificent result for the promising youngsters of Catalan golf, who were in the top positions in all the classifications. Although in the good work of all the players, the young Lumine's alevina, Anna Cañado, stood out, who thanks to a magnificent final lap of 70 strokes, earned her the title of champion of Spain, with a total of 219 strokes, achieving six of income on the theoretically favorite, Rocio Tejedo. Cañado, who showed his concentration and success on the last day, was well accompanied in qualifying, in fifth place, with Claudia Lara (235) and eighth, for Alexandra Vidal (245).
Also in the Top 20 were Lidia Villanueva (12th), Marina Joyce Moreno and Ana Aguilar (13th). Also highlighted is the role of our benjamins, which augur well for a good future as competitors for the FCG. Clara Felip was runner-up with 124 strokes, while Nagore Martínez was third with 127. Adriana García Terol was fourteenth and Carlota Carmona sixteenth. Among the youngsters, Mikhail Efremov was the only one to get into the Top 10, with 231 strokes, while Daniel Egea, Pablo García Terol and Eric Casademont, got into a worthy Top 20.
Among the youngest, more players in the top 10. To highlight the sixth place of Jon JU.ñià (118), and the seventh, for Enzo Martínez and Eric Díaz, with 120, demonstrating the wood of champions that we are already forming. Finally, among the Children's, Anna Ymbern's brilliant fourth place finish with 225 strokes is just seven strokes behind champion Minoo Mousavi. Also noteworthy are Natalia Anglada, seventh, with 230 and Marta Egea, twentieth (236). Among the boys, more classified in the Top 10, with Marcel Fonseca, in seventh place (230), eighth, Luis Palomo (231) and thirteenth, Pau Sanchez (234) and fifteenth, Ivan Ponsdomènech, with 235. Very good results from our players, who have demonstrated their competitive spirit in this great party of children's golf, held in La Manga Club.
Congratulations to all the participants and their families for this magnificent performance in Murcia!
28/06/2018